Daily Drops playlist
New to SoundCloud. Selected for You.
Daily Drops is a discovery playlist that brings you a list of music recently uploaded to SoundCloud and personalized to your taste. Daily Drops is refreshed on a daily basis.
It is available via the Home tab on web, and in the Home tab on iOS and Android. Daily Drops will recommend tracks that have been uploaded to SoundCloud within the last few days, based on what you like and listen to.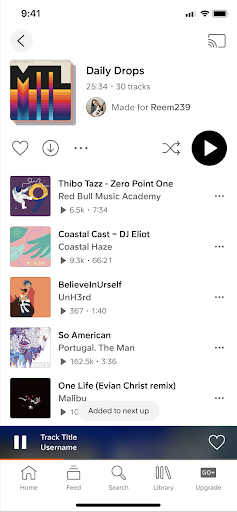 What happened to The Upload playlist?
We've renamed The Upload to Daily Drops. We heard that the past name (The Upload) was confusing for users. We decided to rename the playlist to Daily Drops, which is simpler and better communicates what the playlist actually is.
Nothing has changed besides the name of the playlist.
What kind of content will Daily Drops recommend to me?
Daily Drops considers all the published tracks of the past few days on SoundCloud and ranks them based on your past activity to find the most relevant tracks for you. It uses machine learning to create a unique recommendation profile for each listener.
Please note that the gap between Daily Drops date and published date is now set to be 30 days. We have increased this gap to give creators time and flexibility to master their craft while still getting exposure.
Will premium content appear in Daily Drops if I'm subscribed to SoundCloud Go+?
As long as the content is relevant and matches your activity, yes. Free users will not see premium SoundCloud Go+ content in their Daily Drops playlist.
How often will Daily Drops be refreshed?
A new list of recommendations will appear in Daily Drops on a daily basis.
If I don't listen to any tracks for a while, will Daily Drops still get updated every day?
Yes, mainly because it relies on new content uploaded to SoundCloud. However, the more time you spend on SoundCloud, the better Daily Drops, as the algorithms will have a better understanding of which new uploads could be relevant for you.
What if I'm a brand new user to SoundCloud, will I have access to Daily Drops?
You won't see it on the first day because we would first need to get a sense of what music you're into. But the sooner you start listening to tracks, the faster we can create and showcase new music in Daily Drops for you.
Will Daily Drops change based on what I've been listening to recently?
You may find more similar tracks in Daily Drops over time, but no, there won't be a takeover of one particular genre. Our approach to understanding what you care about is not dominated by recent activity. Additionally, new content of a particular genre would also have to be uploaded and get listened to by like-minded people for it to be considered relevant. That's the other factor that meaningfully impacts what we show in Daily Drops.
Can I save the Daily Drops playlist to listen offline on my SoundCloud app?
Yes, you can! If you are a Go or Go+ user, you can now listen to this playlist offline by following these few steps.
Can I share the Daily Drops playlist with other users?
Yes, you can now share this playlist with other users. Just click on "go to your playlist" and you'll see the "share" option.
Was this article helpful?
●
●
378 out of 757 found this helpful