Spotlight
If you wish to highlight one of your particularly noteworthy tracks you'd like others to enjoy first, we highly recommend using the Spotlight feature which comes with the Next Pro subscription.

Spotlight allows you to pin up to 5 items (either tracks or playlists) to the top of your profile page under the "All" tab. After your Spotlight selection, your most recent tracks and playlists are shown in reverse-chronological order.


Adding tracks and playlists to Spotlight using a computer
To add a track on your profile to your Spotlight selection, click on the "Edit Spotlight" button at the top of your public profile. You can then search for one of your tracks or playlists (within the latest 200 tracks and playlists on your profile) to highlight by typing in the title or selecting the track from the drop-down menu that will appear when you click into the Search box.


The drop-down menu will only show the latest 15 publicly available tracks or playlists uploaded to your account. Once you have your selected items added to your Spotlight, remember to click the "Save" button:
Please note: Private tracks and playlists cannot be added to the Spotlight feature
Reordering your Spotlight
The Spotlight will be ordered by most recent addition to oldest addition. To rearrange track and playlists within your Spotlight, simply drag and drop the tracks and playlists.
Removing from your Spotlight
To remove from Spotlight, go back into the Spotlight edit mode and click on the "X" at the top, right hand corner of the track or playlist. Click "Save" again.
Adding tracks to your Spotlight on iOS
You can also edit your Spotlight on your iOS device by following the steps below: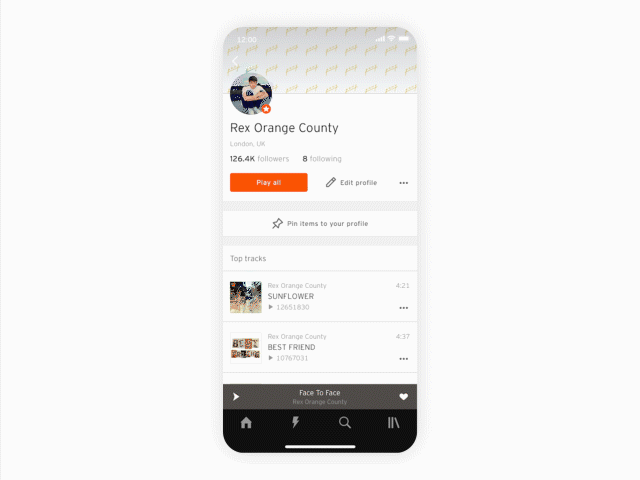 I can't find the track or playlist I want to add in the Search bar
If you are having problems finding a track or playlist via the drop-down menu in Spotlight, this is because it only pulls the latest 15 tracks or playlists made on your account. Try searching the title of the track or playlist that you are looking for instead.

Need more help?
There are two reasons why you may be unable to find the track or playlist you would like to add:
Spotlight cannot include private tracks or playlists. If your track or playlist is private, it will not appear in the search bar.
Spotlight only grabs the last 200 items uploaded or created on your account. If you have a lot of tracks and playlists and are looking for an older item, it will not appear.
Was this article helpful?
●
●
249 out of 502 found this helpful