Email Notifications
Go to your Notifications Settings page,

and you'll be able to choose what you'd like to receive emails or iOS push notifications about (Android will be coming soon)

.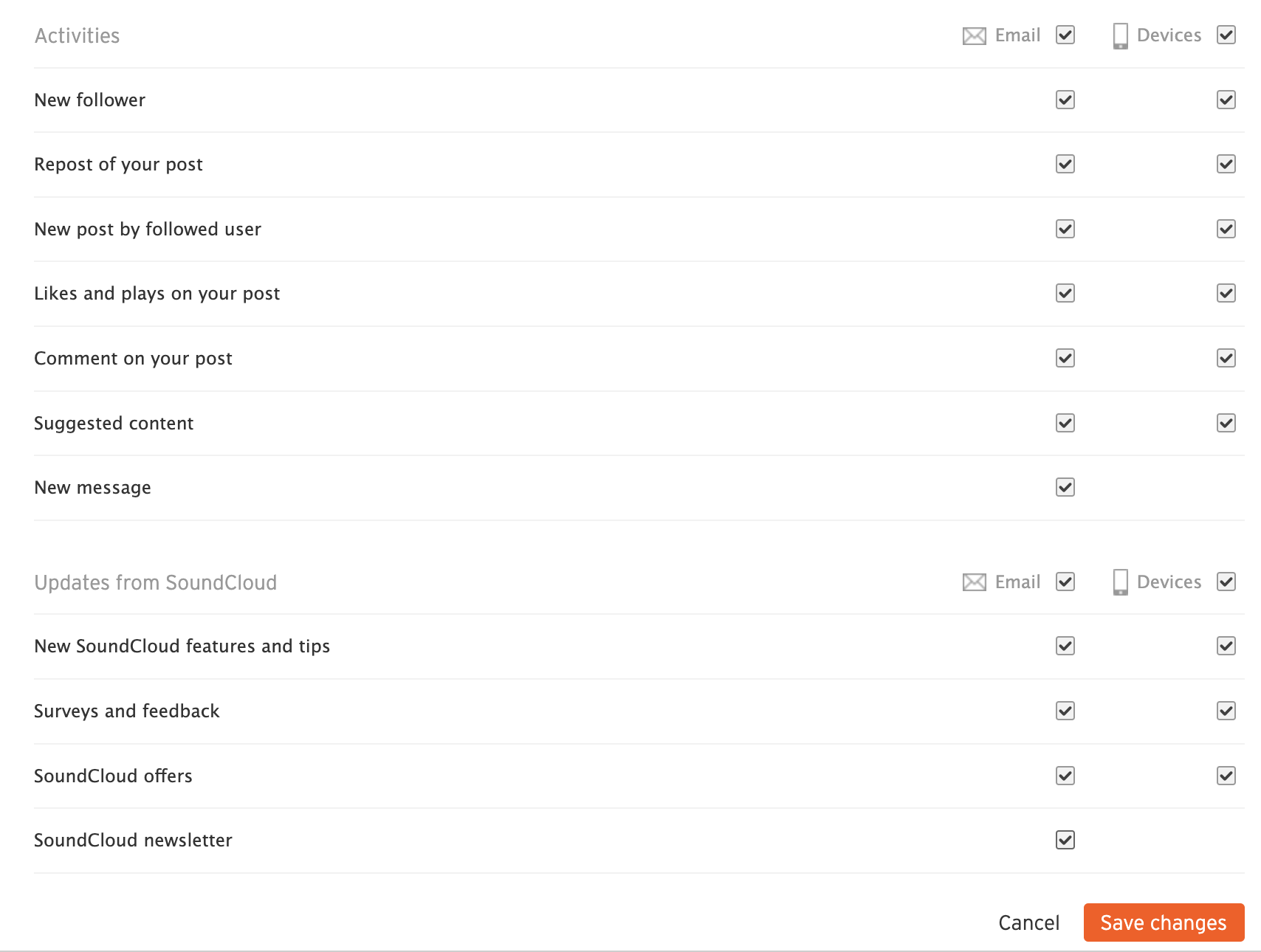 Types of notifications
You can choose to receive email or iOS push notifications about activity on your account, or news about SoundCloud.

Activity notifications
New Follower - Get updated when someone follows you
Repost of your post - Get updated when someone reposts a track or playlist you've posted
New post by followed user - Get updated when someone you follow posts a new track or playlist
Like on your post - get updated when someone likes your track or playlist
New comment - Get updated when someone comments on your track
New message - Get updated when someone sends you a message
New group post - Get updated when someone posts a new track to a group you're in

SoundCloud updates


New SoundCloud features - Stay updated on new product releases and features
Surveys and feedback - Get early access to SoundCloud features and give important product feedback
SoundCloud tips and offers - Tips for discovering artists and getting the best experience
SoundCloud newsletter - Be the first to hear SoundCloud news and receive special offers from SoundCloud and its partners

Mobile push notifications
SoundCloud limits activity notifications that you have chosen to receive to 1 every 24 hours. To see all activity made on your profile (such as new followers, likes, reposts, comments, etc.), go to your Notifications page.


Please note: If you have turned off push notifications from SoundCloud through your mobile device's settings preferences, you will need to enable them again through your mobile device. From there, you can choose which mobile notifications you would like to receive through the Notifications Settings page (pictured above).


Was this article helpful?
●
●
155 out of 469 found this helpful