Recording with the Android app
Record is now Upload
We have removed the native recording feature inside the SoundCloud app.
We understand that some of our users have become accustomed to using the recording feature in the past and we have decided to hide this feature from the latest updates, as we feel the "mobile upload" feature supersedes recording.
If you need some help getting started with the upload feature, you can find a useful help centre article here.
Here's an example of where you can upload your recordings: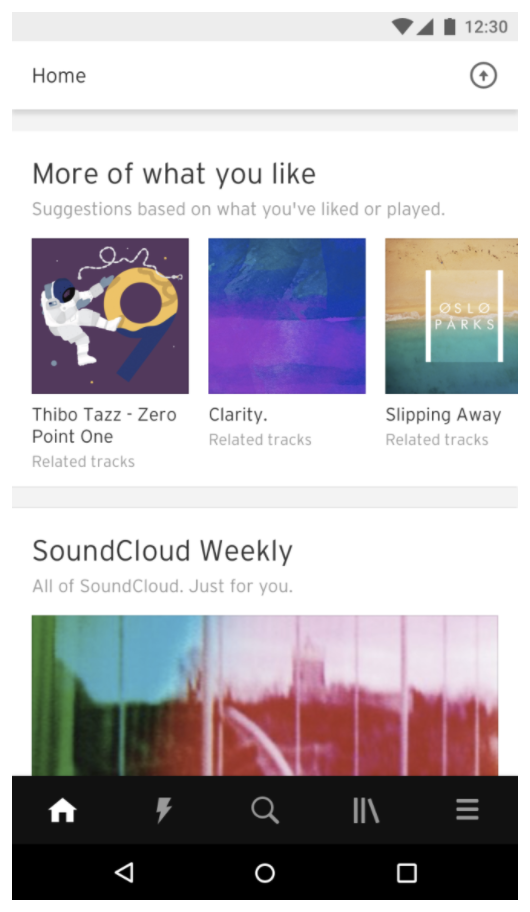 Grey arrow at the top right to start the Upload process
Can I still record in the SoundCloud app?
No. We have removed the record feature and upload functionality from current updates, meaning you will no longer be able to record directly in the SoundCloud app. Mobile uploads still allows for recording files, however you will need to create the original recording in an external app first.
How can I record in the SoundCloud app?
Recording is no longer possible inside the SoundCloud app. Most smartphones already include a native recording app. This means you can still record via your default recording app on your handset, then select the file after hitting the "Upload" button in the SoundCloud app.
Why can't I record in the SoundCloud app anymore?
Recently SoundCloud enabled mobile uploads, which means users can upload any music file from their handset, which includes recorded files. Most phones come with a native recording feature, therefore the new upload feature supersedes the old recording feature.
How can I upload if recording is no longer available?
After you create your recording in your handset's native app, you can find some help getting started via our help article here.
Was this article helpful?
●
●
6422 out of 9767 found this helpful