Adding tracks to your RSS feed
In order for your RSS feed to submit content to other platforms, you must have at least one track that is publicly available added to it. Private tracks cannot be pushed to your RSS feed.

Please note: It may take Apple Podcasts up to 24 hours to read your SoundCloud RSS feed and recognize new episodes in your podcast.

We have a few different ways that you can add tracks to your RSS feed. Learn more about the options below.

Automatically including tracks
You can ensure that all of your future uploads are pushed to your RSS feed automatically by clicking 'Include in RSS feed' under 'Upload defaults' on your Content Settings page: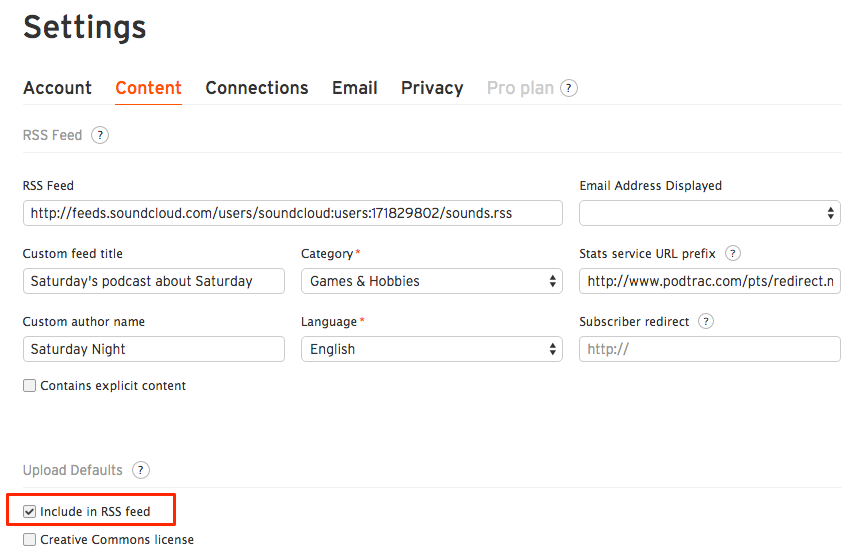 Adding individual tracks
To include a track in your feed, head to your track's Permissions tab within the edit page and check the option to include in your feed.


Adding multiple tracks at once
If you have a lot of episodes uploaded, you can include them in your RSS feed using the batch editor on your Tracks page. Check all of the tracks you wish to edit, click edit tracks, then select Permissions. Check the option to include in your RSS feed and the tracks will be added.


Please note: our RSS feed is limited to 500 episodes. If you have over 500 tracks in your feed, the older ones will be removed to make room for your latest uploads.
Was this article helpful?
●
●
2410 out of 2810 found this helpful