Prompted to reset your password
If you were shown this message when signing in, you need to reset your password before you can access your account: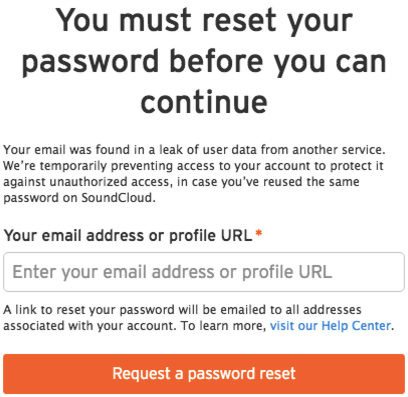 We have introduced a new security feature, designed to protect users against others accessing their account without permission. Following an increase in user data (including usernames, emails and passwords) being leaked from other services, our aim is to protect the community against unauthorized access to profiles and content. For this reason, we are taking proactive steps to protect users whose information may have been compromised in these incidents.

When we learn of a data leak, we check to see if any of our users' email addresses have been included. When you sign in using your email address, we check if you are in the list of potentially affected users. If we find a match, you must reset your password before you can access your account. This is a precaution only, to protect users who may have reused passwords across multiple services. If you need help resetting or choosing a new password, read this help center article for practical password tips.

You can find out more about this in our blog post on securing your account, and what we do to keep users safe.
Was this article helpful?
●
●
767 out of 2393 found this helpful