Podcasting insights on SoundCloud
You can view insights for your podcast through your Insights Overview page. You can access your Insights Overview page at anytime through the drop-down menu from your avatar on the top navigation header: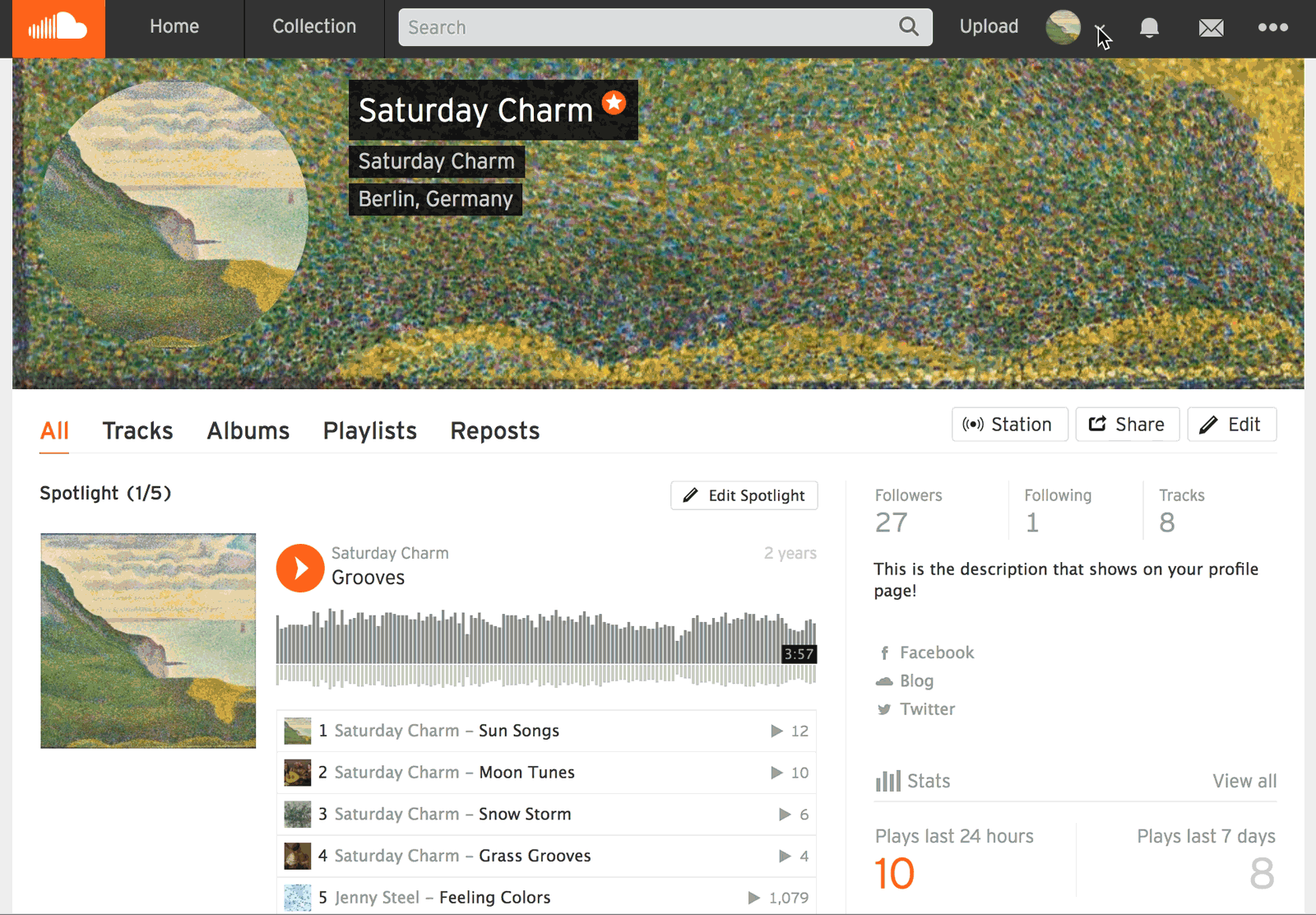 Insights Overview header:


Plays
Your play count shows you the total number of times your fans have listened to your sounds on SoundCloud.com, through our embedded player, our mobile apps for iOS and Android, and our API. Play counts also include streams and downloads via your RSS feed.

Downloads
The download count shows how many times someone clicked the download button on SoundCloud.com or the embedded player.
Public and private insights
Plays, likes, comments and repost counts are all displayed publicly on your sounds by default, but Pro users can elect to hide those numbers if they'd prefer to keep that information private with our Quiet Mode feature.

Downloads counts (if you are a Next Pro user) are private metrics that are only visible when you're signed into your account.
Third-party apps Insights

Here you'll find all the stats coming from the plays from your RSS feed and Basically how the RSS feed stats under "Third-party apps" works is that it takes all the plays from your RSS feed and adds them together which give you the total play count. 

Websites:
In this section, you'll see the plays that we can track the plays from specific websites.
RSS apps:
Your "RSS apps" section above, you'll see the plays that we can track the plays to specific apps. Usually there are some plays we are not able track to a specific platform. Hence there can be a discrepancy between the two if you add all the tracks together.
iTunes:
Stats from iTunes or Apple Podcasts will appear under the RSS apps section called "AppleCoreMedia".
Spotify:
Spotify does not provide us with the necessary data through their player to attribute the plays on their service to your stats. They should have a separate stats dashboard on their website.
Please note: In order to access your third-party apps stats you'll need to access your classic stats page. We've now added a toggle in the top right corner in your Insights page, which will redirect you to the classic stats view.
Was this article helpful?
●
●
121 out of 225 found this helpful