Search on SoundCloud
At the top of our website and apps you'll find our universal search bar, which will make suggestions for artists, music, and audio based on what you enter into it.





Once you've executed a search our search results page can be filtered to quickly find tracks, playlists, and people. Each category also has additional filters to really fine-tune your searches.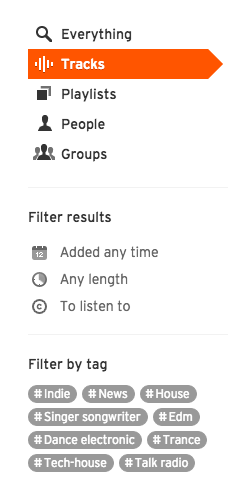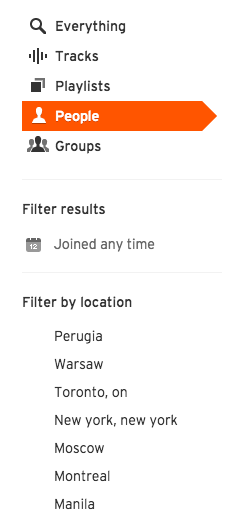 How does the search engine work?
The way our Search function works is dependent on an algorithm we call 'DiscoRank' (short for Discovery Ranking). DiscoRank pulls the search results based upon a variety of variables such as the wording of your search, the content of your track and profile descriptions and the popularity of profiles Each track and artist has a "DiscoRank" that is calculated by a wide variety of factors. These factors include, but are not limited to; the number of likes, reposts, and followers associated with specific tracks and accounts.

All of these factors work together to give the most popular and relevant results for a search. For example, if an exact Profile URL was put into search, there may be profiles which have a wider network of popularity which will rank higher than an exact word match.

SoundCloud Go results
If you are listening to SoundCloud in a country SoundCloud Go is available in through either our website or apps, you will see a separate search result list for additional tracks accessible with a SoundCloud Go subscription. SoundCloud Go offers over 135+ million tracks from the hottest artists alongside up-and-coming musicians from around the world. Our catalog offers independent artists and those signed to some of the biggest labels around (Sony Music Entertainment, Universal Music Group, Merlin, and Warner Music Group, to name a few).


You can identify a SoundCloud Go track by the GO marker on the top right of the track, on both our website and iOS/Android apps:





Before upgrading to SoundCloud Go, you will be able to hear 30-second previews of tracks in the SoundCloud Go catalog search section. Once you upgrade, you gain access to the full versions of all tracks in the SoundCloud Go catalog and have the ability to make them available for listening offline.
Still need help? File a ticket.
Was this article helpful?
●
●
313 out of 860 found this helpful