Feed for Artists
About Feed
Feed helps listeners discover new tracks and keeps them up to date with the artists they are following. As an artist, using Feedis a great way for you to be discovered by new fans and strengthen your relationship with your existing community.
We have just released a major update to the Feed on mobile (iOS and Android) splitting the Feed into two tabs: Discover and Following. On web, Feed will continue to just be the Following feed for now.
Keep an eye out for more improvements to the following Feed in the future, particularly focused on giving creators more ways to express themselves, grow, and connect with their fans.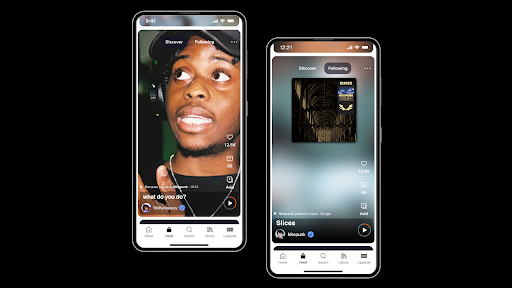 Discovery Tab:
Your public tracks will be recommended on the Discover tab for listeners, based on similarity to other songs that listeners listen to and like. Every recommendation is personalized for a listener and contains an explanation for why it was selected.

Following Tab:
The Following tab shows new releases and reposts from the profiles that you follow.
All your public tracks and reposts will appear on the Following tab for all users who follow you. Encourage your fans to follow your profile to make sure they know when you drop new tracks. Users who unfollow you will no longer see your posts in their Following Feed.
You can make your track standout on the Following Feed by adding a caption. This is a great way to share a personal message with your followers, such as how excited you are to release the track or a story from the creative process.
Getting tracks on the Feed
Your tracks, if made public, will automatically appear on the Feed. A 30-second preview of your track will be recommended to users via their personalized feed. This preview will link to your full track. All your existing public tracks and reposts will appear on the Following tab for all users who follow you in chronological order.
If you don't want your track to appear in Feed, you can always set your track to private.
Promoted tracks
You can promote your tracks here. Promoted tracks enable artists, labels and brands to share their content in the Discovery tab of the Feed for users who aren't following them. These are similar to promoted posts or sponsored content found on other social media sites. Promoted tracks will always be differentiated with a "promoted" tag.
Please note: Promoted tracks are currently only available to Next Pro accounts, brand partners and Next Plus users.
How to select a Feed preview
When you upload a track to SoundCloud, you can select the preview that appears on the Feed. During the upload process, you can click the "Advanced" button to select the preview that appears in the Feed. This preview will also be used in social sharing, such as Instagram previews.
If you do not choose a preview of your song, our proprietary AI technology will automatically select 30 seconds of your song to play on the Feed.
Uploading artwork for Feed
The artwork that you choose when you upload your track will automatically be shown on the Feed. If you don't upload an artwork, we'll show your profile picture.
Was this article helpful?
●
●
3 out of 3 found this helpful