Promote on SoundCloud FAQs
How do I reach potential customers with promotions?
You can customize your promotion with targeting so that only specific audiences and/or users in specific locations can see your promotion.
For example, you can choose to only target SoundCloud users who like "hip-hop" in the UK only.
How long can my promotion run?
You can run a single promotion for a maximum of 2 months. If you want to continue promoting the same track beyond 2 months, you can create another promotion.
Why do I have to wait 5 days for my promotion to start?
When you are creating a promotion, the earliest promotion start date you can select is 5 days from the purchase date. SoundCloud uses this time to review your promotion and make sure you are promoting your own monetizing content and are not breaching the Promote on SoundCloud Terms and Conditions.
What kind of content can I promote?
As an artist, you can only promote your own monetizing content that is uploaded to your SoundCloud account. Tracks must also be set to public. Remixes, mixes, covers, and spoken-word works can't currently be promoted.
You also cannot promote any material (audio or visual) that is illegal, pornographic, obscene, threatening, harassing, encourages violence, discriminatory, defamatory, libelous, or in breach of confidentiality, or otherwise violates SoundCloud's Terms of Use, including the Community Guidelines.
How do I locate my promotion after it is submitted?
You can find your promotions in the Promotions section at the top of the page.

How are my promotions priced?
Your promotions are priced based on a CPM (cost per thousand impressions) model, which means we charge you based on how many impressions are delivered to your target audience.
From April 27, 2021: we dropped the CPMs 50%.
For example, a $10 CPM means for every 1000 impressions, or views, you pay $10 (instead of $20).
An impression is equal to a view. For example, a $20 CPM means for every 2000 impressions, or views, you pay $20.
Promote on SoundCloud offers two pricing options based on which targeting level you choose: Simple (lower CPM) or Advanced (higher CPM).
There is also a minimum spend per promotion of $25.
Can SoundCloud guarantee clicks, plays or engagements from my promotion?
When you run a promotion using Promote on SoundCloud, SoundCloud cannot guarantee clicks, plays or engagements on the track you are promoting. We can only guarantee that you will receive all booked impressions or receive a prorated refund if any under-delivery of impressions occurs.
It's important to remember that even if you don't see a lot of plays, clicks or engagements from your campaign, your track is still being promoted to the SoundCloud audience you have targeted. This means people will be seeing your artist name, track title and even the track artwork when you run a promotion.
I promoted my track but I don't see it at the top of the homepage or feed, where is it?
When you run a promotion, your promoted track will appear at the top of the homepage or the feed to SoundCloud users who don't have Go or Go+ subscription, and match the targeting options you selected for your promotion. You might not see your own promotion if you are a Go or Go+ subscriber, or if you aren't in the target audience you selected for your promotion.
Don't be alarmed if you don't see your own promotion when you sign in to SoundCloud - rest assured real users will see your promotion on SoundCloud, even if you don't.
What will my promotion campaign look like?
Your promotion on SoundCloud will look just like a regularly uploaded SoundCloud track in your feed or homepage, with the words "Promoted" at the top of the track. Your promoted track will be highly visible, at the top of your target audience's homepage (on mobile) and feed (on mobile and desktop) where listeners will have a better opportunity to discover your music.
Here is an example of a promotion on a mobile device: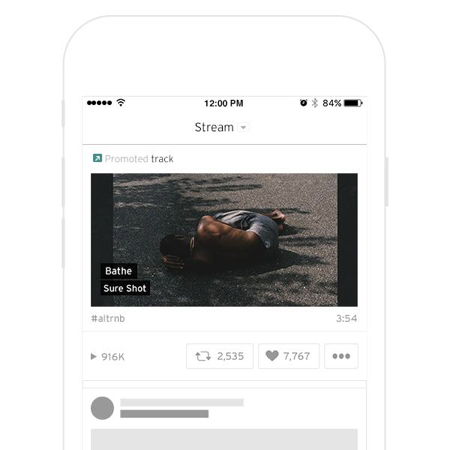 Why can't I register if I am based in Sweden?
Unfortunately, Promote on SoundCloud is not currently available for users who have a Swedish billing address.
Was this article helpful?
●
●
82 out of 133 found this helpful