How do I know if my subscription is canceled?
Using a computer, log in to your account and visit soundcloud.com/you/subscriptions and click the "Edit" button to manage your current subscription.
If your plan status EXPIRES, you will not be charged again in the future.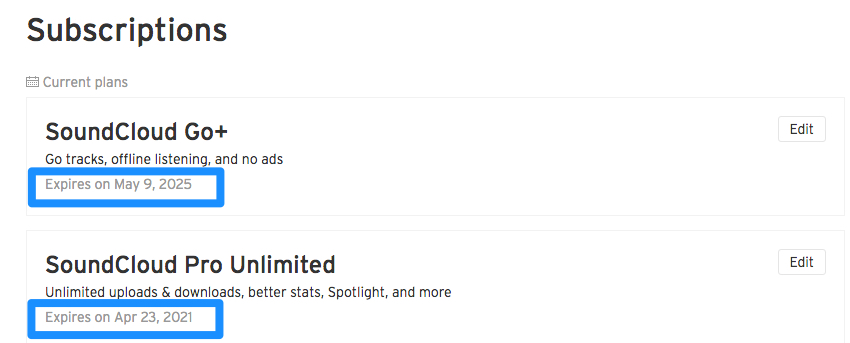 Alternatively, if your plan status RENEWS, you have not cancelled your plan and will be charged at the next payment date.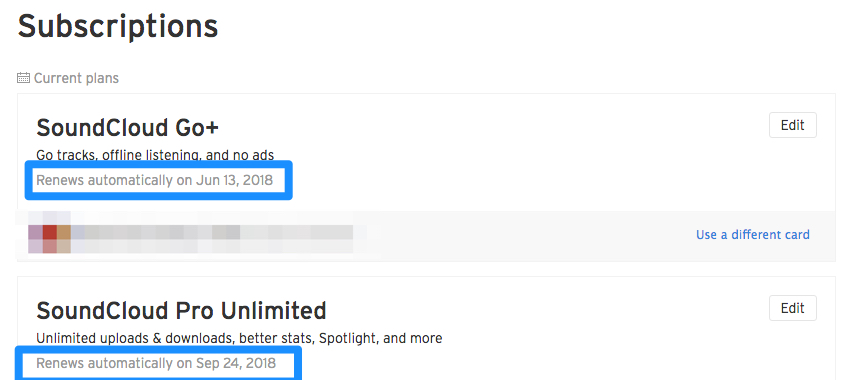 Please note that at the moment only Go+ subscription status is available on the mobile app - Pro and Pro Unlimited plan status is not displayed and can be checked only on the desktop version.
How can I change my credit card or payment method?
I want to change my credit card information
If you would like to change your credit card information this is not possible if you have already cancelled your current subscription. You will need to purchase a new subscription after the current subscription expires.
However, during an active subscription that has not been cancelled, you can update your card details by signing into your account from a computer and going to your Subscriptions page.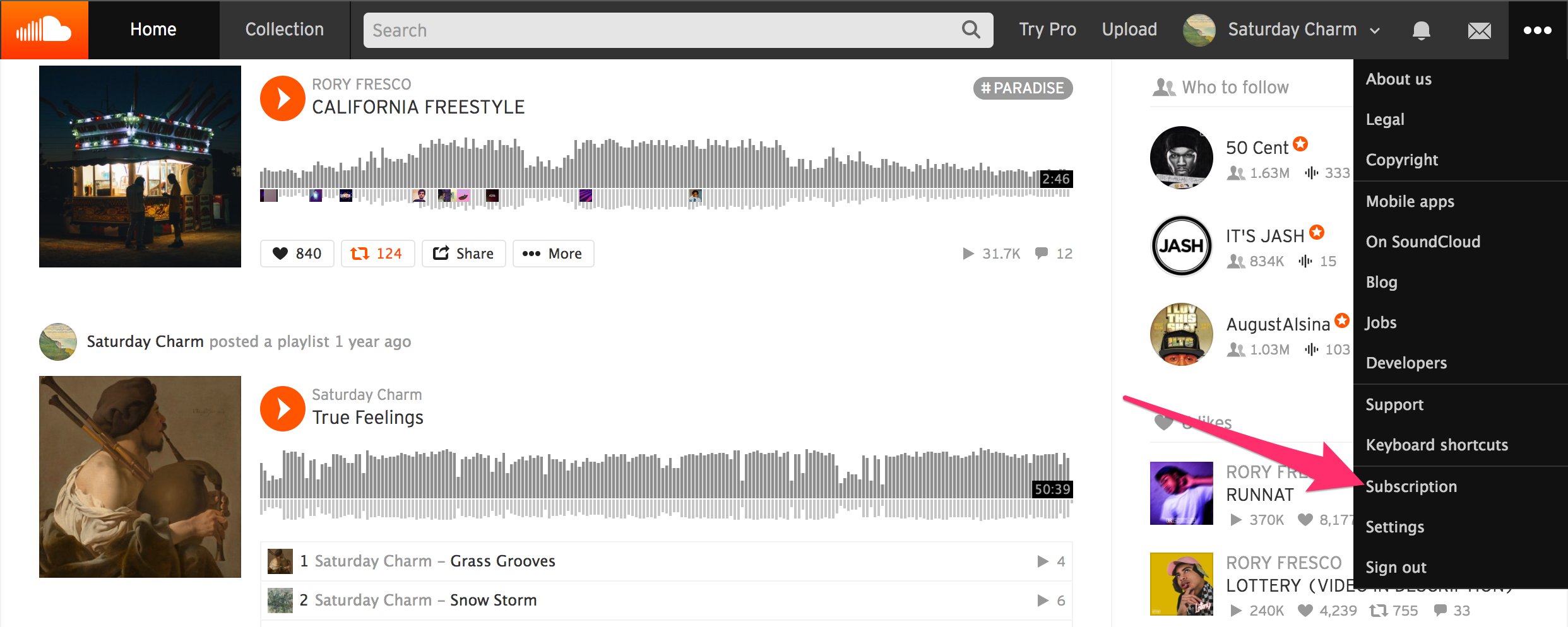 Click on the 'Use a different card' option next to your current details:

Then, enter in your new card details and save the changes.
I want to switch to PayPal or change my PayPal account
If you are a PayPal-paying user and would like to change your info or are currently using your credit card and would like to switch to PayPal, you will need to make a new purchase. In this case:

1. Cancel your current plan at soundcloud.com/you/subscriptions*
2. Wait until the plan expires (you may see some tracks hidden, but they will reappear after you re-purchase). Then, log in and visit soundcloud.com/pro and choose your desired plan.
3. Fill out the details on the next page and select your desired payment method.

Depending on your card or bank, you may see a small amount charged and then immediately refunded. This is simply a test transaction so we can verify your new payment details are authorized. You will not be charged the regular amount until your account's next payment date.
Pro Unlimited subscription pictured above. The process for changing your credit card or payment details is the same for all plans. However, Pro and Pro Unlimited plans have monthly or annual plans and SoundCloud Go does not need your address.
My subscription expired and the new price is different, why?
When you purchase a plan, your initial purchase price is valid for the duration of your subscription, until your automatic billing cycle ends.
If you then purchase a new subscription after your previous cycle expires, you will be charged the current price for your selected subscription. Any former price does not apply any longer and cannot be retroactively applied.
You can always update your credit card details to keep your plan/old pricing from expiring by using a computer and visiting soundcloud.com/you/subscriptions.
I purchased a subscription for the wrong account, can I transfer it?
We can help you transfer your yearly Pro or Pro Unlimited subscription to the correct account in case you accidentally applied it to the wrong one.
Please get in touch our Payments team here and provide the profile URL of the account the subscription has been purchased on, and which account you would like it transferred onto. We will then take a look to see if the change is possible for the accounts in question.
Unfortunately we cannot transfer any monthly subscriptions, which includes Go or Go+.
In this case, you will have to cancel your monthly Pro or Go plan by logging into a computer, going to your subscriptions page and make a new purchase for the correct subscription and on the desired account when you're ready.
My payment has failed, what should I do?
There are a few reasons why your last payment might have been unsuccessful.
Please first confirm with your bank or with PayPal that they are not blocking the payment to SoundCloud and double check the following:
If you used a credit card
Your credit card details are no longer correct (have you received a new card?)
Your bank account has insufficient funds
Your bank is rejecting the payment due to other reasons unknown to us
Your card expired or the expiration date is incorrect
If you used PayPal
Your billing agreement was cancelled at PayPal
PayPal did not approve the payment
Otherwise, it could be that you entered your payment information over one year ago and your details need to be refreshed.
I've noticed an unauthorized payment on my account
If the payment is an automatic recurring charge for a plan which you initialized, it is not considered unauthorized and you may cancel future payments here: http://soundcloud.com/you/subscriptions
If you don't recognize the payment for a plan that you did not initialize, please check whether any of your accounts have a SoundCloud Go or Pro subscription through the Subscriptions page when you are signed in.
If they do not, then please get in touch with our Support team by filing a ticket clicking on the link at the bottom of this page and provide us with the cardholder's full name and the last four digits of the card's number (on rare occasions where we cannot trace the payment, we may require you to provide further details). If the account is a PayPal account, please provide the email associated with the PayPal account.
What payment methods do you accept?
Debit or credit card (Visa and MasterCard)
American Express
Diners Club
Discover
PayPal (requires a credit card)
What currencies do you accept?
Depending on where you are making your purchase, we currently offer our plans in the following currencies:
Euros
US Dollars
British Pounds
Canadian Dollars
Australian Dollars
New Zealand Dollars
Swiss Francs
Danish Krone
Norwegian Krone
Swedish Krona
What if the currency I use is not in that list?
For other currency conversions, use this site to convert our prices to your local currency. Your transaction for a Pro or Pro Unlimited plan will be considered international, and your bank may charge you international transaction fees.

Please note: For currencies other than those listed above, prices may change depending on the exchange rate of the bank on the day the charge is processed. This applies to refunds as well.
Still need help? File a ticket.