SoundCloud Go subscriptions FAQs
How do I cancel my SoundCloud Go subscription?
I purchased through Apple / iOS device
If you have purchased SoundCloud Go through the Apple App Store, you will need to cancel your subscription directly with Apple. SoundCloud unfortunately cannot assist with cancellations or refund requests if the subscription was purchased on an iOS device.
To cancel with Apple, please follow the steps provided by Apple Support - deleting your SoundCloud account will not cancel your SoundCloud Go subscription with Apple.

Paying for your SoundCloud Go subscription is more expensive through the Apple app store because of the transactional fees that Apple applies. If you would like to re-purchase at the lower price offered directly through our website, you can purchase at the SoundCloud Go purchase page.

If you cancel your first SoundCloud Go subscription, and purchase again through SoundCloud.com you will no longer be eligible for a free trial period and will be charged immediately.

I purchased on the website / Android app
Please note that you cannot cancel via the app, only using a computer.
If you have purchased SoundCloud Go from our website or Android app, you can cancel your subscription at any time before the end of your current 30-day payment period. E.g. If you purchased on December 1st, you would have until December 30th to cancel your subscription.

1. Sign into your account on a computer and go to your Subscriptions page
2. Click on the icon next to your current subscription status and follow the prompts to cancel your plan

3. You will then be redirected to the page where you will be able to cancel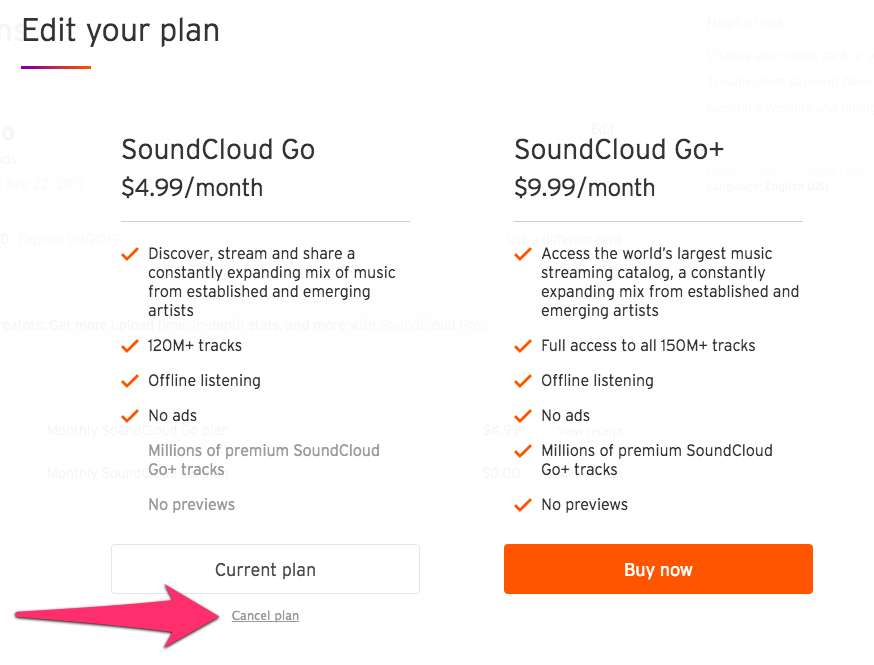 If you change your mind, you can upgrade back to a SoundCloud Go subscription at anytime through our purchase page.
How do I know if my subscription is canceled?
Using a computer, log in to your account and visit soundcloud.com/you/subscriptions. If you are using a mobile device, you can always check your status in your SoundCloud app's settings. If your current plan is not reflected after a successful purchase, you can also go back to the checkout screen in your app, and select "Upgrade now".
If your plan status EXPIRES, you will not be charged again in the future.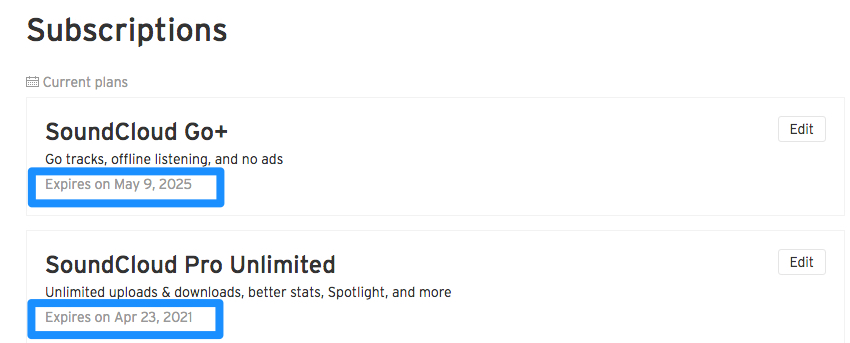 Alternately, if your plan status RENEWS, you have not yet cancelled your plan and will be charged at the next payment date.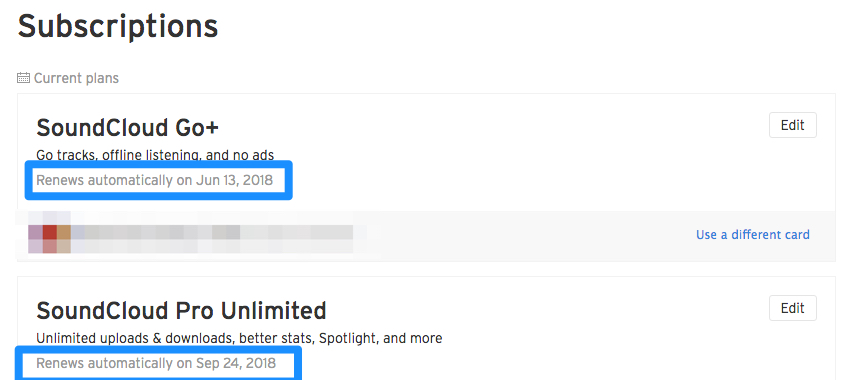 Please click the "Edit" button as shown above to manage your current subscription.
Will I get a refund after I cancel my Go subscription ?
We do not offer refunds for the period of time between the cancellation of your SoundCloud Go subscription and the next payment date.
When you cancel your SoundCloud Go subscription, your account stays the same until your next renewal date - so you can continue to enjoy access to full tracks, offline listening and an ad-free experience for the time period you have paid for. Once that payment period has stopped, you will be downgraded to the free SoundCloud experience.
You can find more details on our Go refund policy in our Terms of Use.
I have a Go subscription, when will I be charged?
With the monthly SoundCloud Go subscription, the subscription renews every 30 days, so your credit card or PayPal account will automatically be billed every 30 calendar days - this means that the payment may not be taken out on the exact same date of each month.
In the event of a billing failure, you will receive an email.

At the moment, there isn't a way to change the date your monthly payment is taken. If it's more convenient to have payment taken on another date, please opt out from automatically renewing your SoundCloud Go subscription in your account's Subscriptions page by clicking on the Edit icon.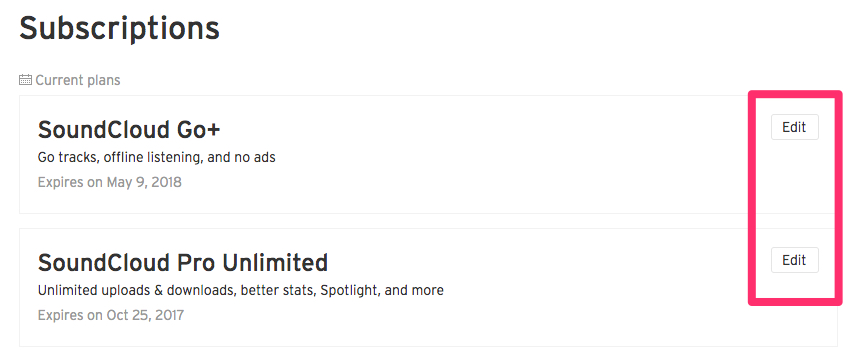 Your subscription will keep running for the remainder of the current 30-day-period, and then you will automatically convert to a Free experience again. You can then choose to subscribe to a SoundCloud Go subscription again through our SoundCloud Go purchase page using a computer.
I have purchased a Go subscription but it doesn't show, what can I do?
If you have purchased an Apple/iOS SoundCloud Go or Go+ subscription, you may need to refresh your app to acknowledge this.
Within the app, go to Library, then click on your round profile picture in the top right.
The option to restore your purchase will be on that screen.
If you purchased your SoundCloud Go subscription from our website, there may be a brief period of time before the subscription becomes live on your mobile device. To confirm that your subscription is live on your app, please go to your app's Settings and try signing out, and back into the SoundCloud app to refresh your mobile device's cache. Afterwards, your SoundCloud Go subscription should be live on your account.
Still need help? File a ticket.
Was this article helpful?
●
●
154 out of 441 found this helpful