Premier Payments FAQs
Will I get paid for streams I generated before I joined Premier?
SoundCloud Premier monetization pays you for streams generated after signing your SoundCloud Premier agreement and enabling monetization on your tracks, this means that streams that happened before joining the program and enabling monetization will not be counted.
Once you have selected monetization and they have the blue $ sign, your tracks will be monetizing.
You can also monetize your older work straight away by following these steps.
Will my monetized tracks be available everywhere and will I get paid for all tracks?
Your tracks can be available everywhere, just make sure you haven't selected geo-blocking in your tracks settings.
Monetizable streams come from at least one of these eligible countries
How do I know how much I will get paid?
As a SoundCloud Premier artist, you will get access to monthly earnings information within Insights. This view will include a breakdown of your earnings between your high and low contributors, highlighting the power your true, devoted fans have in how you get paid under the fan-powered royalties model.
High contributors dedicate a lot of their listening time on the platform to your music
Low contributors spend relatively more of their listening time across other artists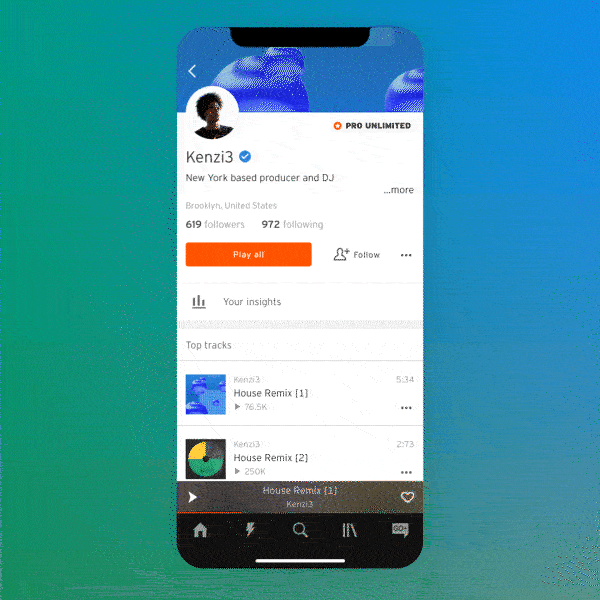 Your monthly earnings will refresh near the end of each month once a new batch of payments has been processed. Learn more about fan-powered royalties here.
When and how often will I get paid?
While we will try our best to pay you much faster, generally you will receive your first payment within 45 days after the end of the reporting period — typically the end of the month — if your monthly earnings meet or exceed $5 USD. If you've earned less than $5 USD in a given reporting period, we will wait to issue the payment until you've met or exceeded that threshold.
Please ensure your PayPal is correctly set-up by following these steps.
You will receive your SoundCloud Premier Monetization payments directly to the PayPal account that you have selected in your agreement.
How do I set up PayPal for SoundCloud Premier Monetization?
To ensure a smooth payment process please make sure you have set up your PayPal correctly by double-checking the following:
How do I confirm my PayPal email address?
Click the Settings icon next to "Log out"
Click on the email address you want to confirm under "Email"
Click Confirm this email address and we'll send you an email with a confirmation link
Click the link in the email to complete the confirmation process.
Please note that on the first time you receive payments with PayPal, you will be requested to accept the payment manually by logging in your PayPal account and clicking the Accept button.
The payments you received will be available in your PayPal balance. You need to add a bank account to your PayPal account for future withdrawals.
How do I accept US Dollars in my PayPal account?
PayPal have recently changed some of their account settings which means that USD payments don't automatically get accepted anymore if your account's standard currency is not set to USD.
Here's how to set up your PayPal account to accept US dollars:
Log in to your

PayPal account

When on the opening page of your PayPal profile, click details next to balance on the left hand side of the screen.

At the bottom of the following screen, click Manage currencies and add USD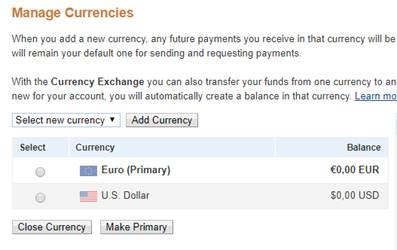 Please contact PayPal support if you continue to experience difficulties in setting up your account.
How do I change my PayPal email address/personal information?
Please log into your account, click the "..." icon on the top right corner and then "SoundCloud Premier Monetization".
There you can edit your PayPal email address and home address.
If the personal name on the account is incorrect, you will have to get in touch with us so we change this for you.
Do you still have questions? Please check out our Playbook for more info about SoundCloud Premier Monetization, tips and tools to grow your audience.
Was this article helpful?
●
●
461 out of 771 found this helpful