Rekordbox
As a SoundCloud Go+ user, you can now access SoundCloud's extensive catalogue from within Rekordbox.
Offline capabilities as part of the SoundCloud DJ subscription are not currently enabled.
Which versions of Rekordbox are supported?
In order to access your SoundCloud account from the DJ Application you will need Rekordbox 5.6.1. You can get it here.
New users to SoundCloud Go+ and Rekordbox are eligible for a free 30-day trial.
How do I get access to my SoundCloud content from Rekordbox?
To access your SoundCloud content from Rekordbox, you will need a SoundCloud Go+ subscription, as well as a Rekordbox subscription. New users to SoundCloud Go+ are eligible for a free 30-day trial. You can purchase and learn more about SoundCloud Go+ here. Alternatively, your Rekordbox software can redirect to this page through a pop up that appears when clicking the "Log in" button next to the SoundCloud node in the Rekordbox browser.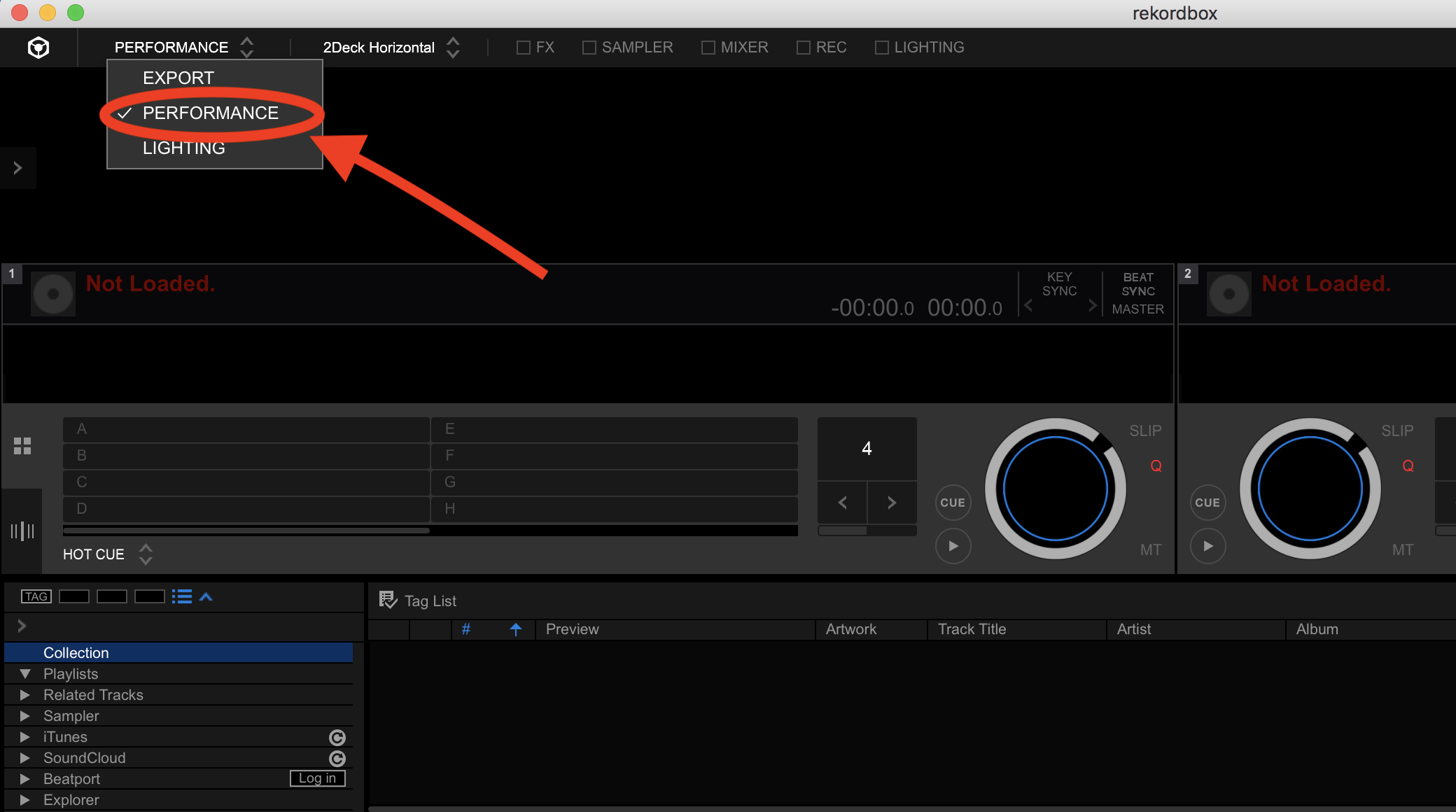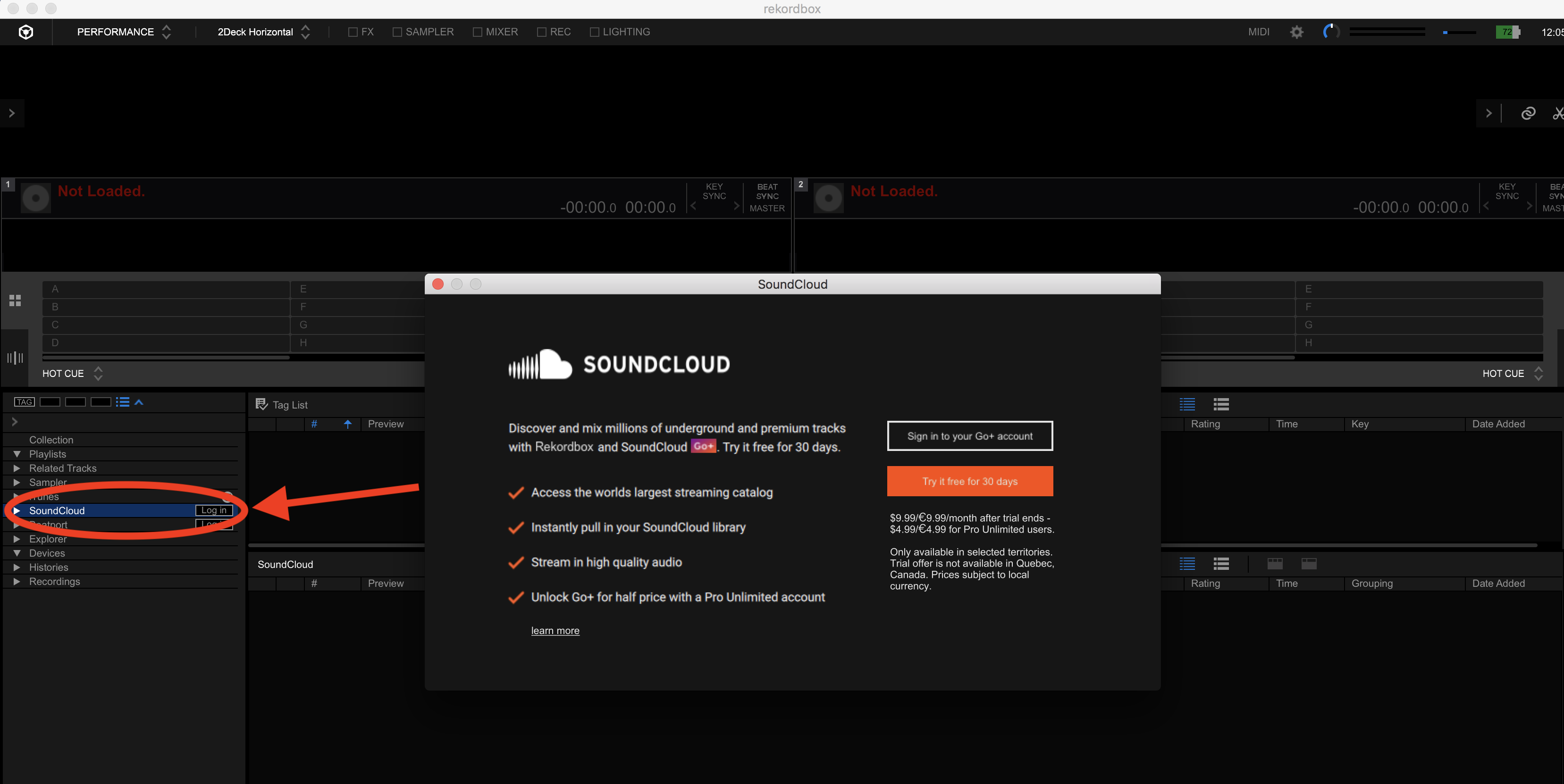 Please note that SoundCloud contents are only accessible through the performance mode on Rekordbox. At the moment, it is not possible to access SoundCloud content in the Export mode.
How do I connect my SoundCloud account to Rekordbox?
From your instance of Rekordbox, select performance mode on the top left corner. Click on the "Log in" button next to the SoundCloud node in the Rekordbox browser in order to "Sign in" or "Start Trial".

Is it possible to use Rekordbox with SoundCloud integration on CDJs?
This is possible with the correct set up. For more information on how to do so, please check out this page.
What is the audio quality for tracks streamed from SoundCloud?
Tracks uploaded at lossless or at a high bitrate will be available for streaming in high quality. We will continue to ensure that as much content as possible is available to our Go+ subscribers in high quality 256kbps AAC.
Will my Cue Points, Loops, Flips etc. work on my SoundCloud content as well?
Yes, once you set Cue Points, Loops and Flips on a track from SoundCloud the data will all be saved and next time you stream the SoundCloud file, all of these will be there.
Can I search for tracks from SoundCloud in Rekordbox?
DJs can use Rekordbox search bar to search music from SoundCloud's catalogue. You can tell which songs are from the SoundCloud catalogue as a small SoundCloud icon will be visible in the first column of the library.
How do I see Key, BPM and a waveform overview for SoundCloud tracks?
When you load a SoundCloud track to deck the entire audio stream will be downloaded. Once the download is complete, Rekordbox will quickly analyze the file and provide you with track information. All this information will be saved and displayed in your library.
Where can I find my own created playlists within Rekordbox?
Your personal created playlists are at the bottom in the "Playlists and Albums" column inside the DJ library.
Can I create and edit SoundCloud playlists from within Rekordbox?
No, but you can always do this directly from your SoundCloud profile.
Can I record my sets in Rekordbox with tracks that I am streaming from SoundCloud?
At this point it is not possible to record sets with tracks streamed from SoundCloud.
Can I stream SoundCloud tracks while offline?
At this stage there is no ability to save SoundCloud tracks and play them while offline. You must have an active internet connection to stream SoundCloud tracks from your instance on Rekordbox.
Can I access my Likes from SoundCloud inside the app?
Yes, you have the most recent 1000 SoundCloud Likes inside Rekordbox available to stream.
Why am I not being offered a Go+ trial from within Rekordbox?
This may happen if you were subscribed to SoundCloud Go+ in the past.
Learn more about our SoundCloud DJ Integrations here.
Was this article helpful?
●
●
34 out of 97 found this helpful